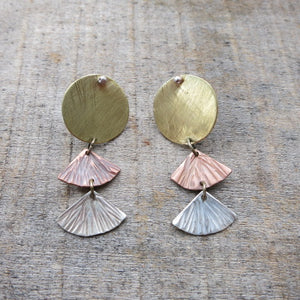 Inspired by the shapes Earth makes.
Silver, brass and copper elements linked together to create dynamic stud earrings. I have experimented here with a combination of hammered textures and scratched finishes. The top segments are backed with sterling silver earring pins.
Pairs well with any necklace from the Earthshapes collection.
Earring length: 3.5cm | Weight per earring: 2.5g | Matte finish with some patina remaining
Every jewellery piece made by Erin Frances is individually cut, carved, shaped and/or hammered and so each item of the same design will have it's own unique personality.